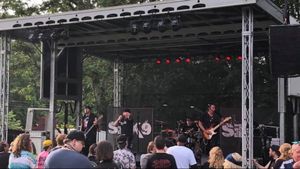 SiLK9 is a Pittsburgh PA based hard rock band that was founded in April of 2013 by Anthony Leone. 
In May of 2014 the band released its first EP entitled "Exit the Pain." 
The Ep was released too much acclaim on the local and Tri-State scenes  with regular radio play on several local stations as well as internet radio

Receiving 6 Nominations in the "Iron City Rocks Music Awards" and nailing down the award for "Best Album of the Year 
Songs from the EP have been featured on 97.7 Butler Pa, Adrenaline 101, 105.9 The X, 102.5 WDVE, The PA Rock Show.com, 107.5 The Eagle in Wheeling WV, also featured on Lou Lombardi's Rock n Roll Circus.
Shortly after, a licensing agreement was signed with JTV digital and Pop-up music. 
On November 21, 2015 the new single "Shattered and stained" was released for digital download. The song was featured on 105.9 The X.
September 12, 2016 SiLK9 signs a deal with RFL records.
January 2018 the new EP "RETRIBUTION" was released. Featuring 5 tracks that are best described as Dokken on the melodic side meets Pantera on the heavy side. 

5 high energy and flat-out aggressive tunes that will burn the soul and etch new depths into your Metal core; melody that stretches the heart and a heavy beat that ravages your mind. 
A video for the first single, I don't know, was aired on January 29th with promotional partner, BRAVEWORDS.com. 
April 2019 SiLK9 leaves RFL records to self release a brand new single with a brand new line up..... I Won't Carry You has already seen air time on 105.9 the x, has been distributed world wide on all digital download sites and has been in rotation on indie radio show Moment of Eclection.  The  video was released, on schedule, March 14th, 2019 and has been seen by over 1,000 viewers in 3 weeks.
May 24, 2019 SiLK9 signs a promotional agreement with Curtain Call Records.
October 11, 2019. A new single,Find My way, is released on curtain call records, Sony/Orchard.
January 29, 2021. A new line up and a brand new sound: SiLK9 releases it's first single with a brand new line up. "We wanted to write something special, not just a new song but our anthem" Tear Me Down is our anthem, its a song that sends a real message of unity and strength.
SiLK9 has worked with: Steel Panther, Lynch Mob, Adelita's Way, The Art of Dying, Winger, Drowning Pool, Skid Row, Jake E Lee, Puddle of Mudd,  Winger, Warrant, The Reb Beach Project, Sebastian Bach , Dokken, Bullet Boys, Enuff Z nuff and Tantric
The dawn of a new era launches and the thunder that is SiLK9 is firing on all cylinders!!